It's on again and we would be thrilled if you could be involved.
The Seven Days of Sacrifice' appeal is based on a simple idea.  In the week, 10-16 June 2018, we invite you to join us in doing something "sacrificial" to raise funds to help children and families living in debilitating poverty in India, Pakistan, Uganda and Kenya.  Last year:
Viv gave up coffee for a week  and donated what she saved.
Peter and Linda hosted a dinner party for friends who donated.
One person sold sporting memorabilia and donated the proceeds.
Joyce, Julie, Terry and lots of others made a donation.
To find out more contact Paul on 0411 740 549 or call Deb at the Bright Futures office on 08 7225 7175.  To make a donation online simply click on the donation link below.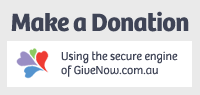 Donations to Bright Futures are tax deductible.
Here are the details of our new shop/office:
Bright Futures Office & Gratitude Store
Shop 27, Da Costa Arcade, 68 Grenfell Street, Adelaide SA 5000
Postal Address: PO Box 3071, Rundle Mall SA 5001
Phone: 08 7225 7175
Office: office@brightfutures.com.au Shop: admin@gratitude.org.au
_________________________________________________________
Bright Futures Child Aid & Development Fund Australia is an Australian based Christian aid and development agency working to provide education and development opportunities for children and communities in poverty. Bright Futures currently operates in four countries, India, Pakistan, Kenya and Uganda.
Bright Futures works with its overseas development partners in providing a wide range of programs relevant to local needs. These programs include schooling, health clinics, clean water projects, vocational training, self-help groups and much more.
At just $42 per month (tax deductible), a Bright Futures Sponsorship operates within a comprehensive development program that brings help, hope and opportunity for a child and their entire community. Bright Futures child sponsorship relates to projects in both India and Pakistan, with the projects in Uganda and Kenya being funded by direct donations. Apply here to become a sponsor today and make a difference.